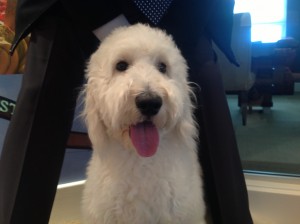 Brody is an adorable Goldendoodle who belongs to John Kriza, our Sales Manager at The Residences at Dockside. You may have seen Brody around Dockside – he sometimes comes to work with his dad.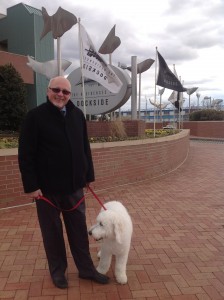 John's been with the DePaul Group for 17 years and with us here at Dockside since 2006. Brody, on the other hand, has only been around since last year – he'll be one year old in July. When John got Brody, he was a mere 4 1/2 pounds. As you can tell, he's a little bigger than that now! Weighing in at 45 pounds, Brody is the biggest dog John has ever owned – and he's also the first Goldendoodle John has had. Brody lives with John by the beach in Lewes, Delaware – and one of his favorite things in the world is to get groomed.
Say "hi" to Brody (and John) if you see him wandering around the building. And remember, we love pets here at Dockside – so send us your favorite pet pictures, too!