This is Bunny, a 13-week old "pocket" beagle who belongs to owner and Dockside resident,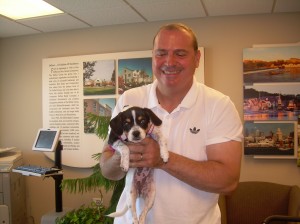 Jeffrey Frances. Pocket beagles are bred to not bark or howl like normal size beagles (which we're sure Jeffrey's neighbors appreciate!). Jeffrey and his wife are smitten with their new addition, sharing that Bunny is is such a good girl and very loving.
Here, Bunny dons her little pink skirt to look good for her morning walk through Penns Landing.