Meet some of our newest Dockside residents…
We always enjoy introducing our new Dockside residents – especially when they're this adorable. Dockside homeowner and Philly sports radio personality Tony Bruno and his wife, Robin Austin, recently became the proud owners of 7 kittens. Bruno, a local Philadelphia celebrity, hosts the show on 97.5 The Fanatic every weekday from 10am until noon.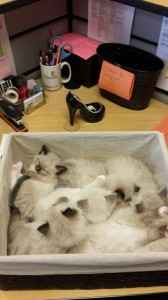 Miss Lilly and Riddle, the feline parents of these new kittens, are keeping a careful eye on these little balls of fur, as are Tony and Robin. We hear that Riddle is having a lot of fun playing with his new fur-babies!
Most of the kittens have been spoken for already and will soon be sent to their forever homes to make a new family happy.
As popular as kitten pictures are online, we figured we'd share a few of our own. Dockside is a very pet-friendly building. If you're a Dockside resident who has pets, send us your pictures – we'd love to share them!