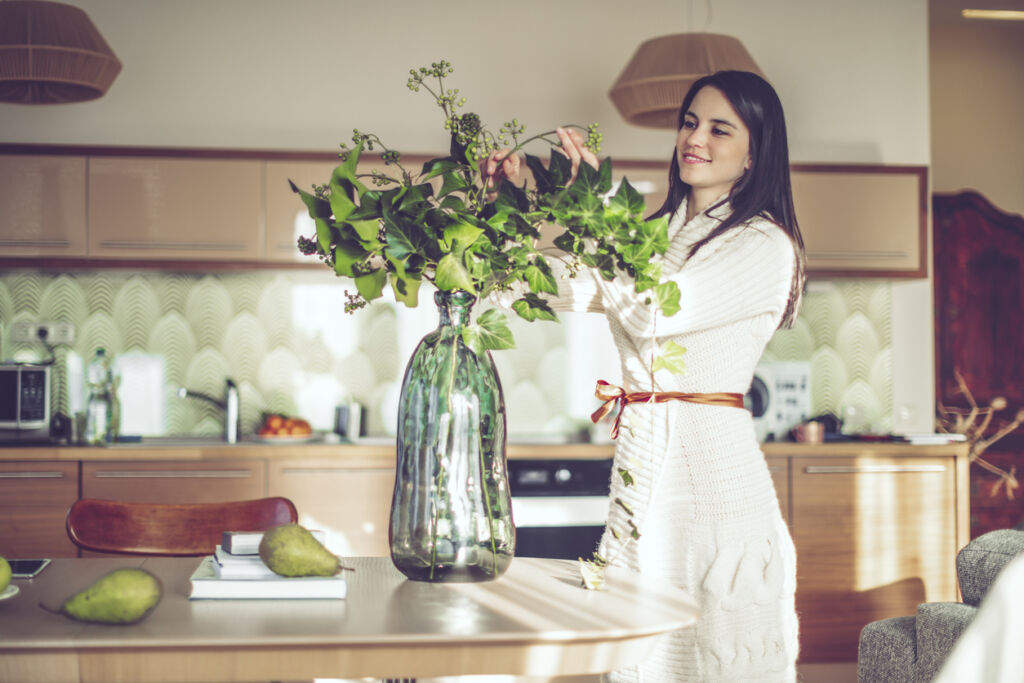 You don't have to completely redesign a room to give it a fresh feeling. Instead, you can spruce up an element or two in the room to give it new life. From changing the lighting to incorporating new fabrics, here are some easy ways to spruce up any room in your house.
Declutter
Clutter is always an issue for any busy household and can really impact the overall design of a room. For a quick makeover, try removing any clutter and see if that helps spruce up the room. There might not be anything wrong with the way your room is designed. Instead, the clutter was the only thing that was distracting you from enjoying your room!
Decorate With Flowers

Incorporating fresh flowers or houseplants to your décor will breathe life into your interior design. The best part, you can easily replace fresh flowers constantly, giving the room a new feel each time you change them.
Try an Area Rug

A simple area rug can do wonders when you are trying to update a room. Not only will it add warmth, but depending on the area rug you choose, you can add color, texture, patterns and more.
Switch up The Lighting

Everyone is bound to notice the change in a room when you update your lighting. Lighting is essential for any room and can really change the overall design and atmosphere. From a new lamp to installing new strip lighting, consider brightening up the room with new light fixtures.
Decorative Display Shelves

Solve storage and decorating issues at the same time by installing new decorative display shelves in your interior design. These shelves can instantly give any room a new vibe and you can get really creative with what objects you decorate with and how you style your shelves!
Hang New Window Treatments

New window treatments are easy to install and yield instant results when trying to spruce up a room. New curtains can change the game, but you can also start smaller if you are enamored with the curtains you already have. Instead, try a new curtain rod, it might just be enough of change that you are looking for.
Let the Sun In

Let natural light flood your home by strategically placing a new mirror in your room. Hang mirrors directly where the sun beams in and let the mirror bounce the light naturally. Not only will your room be well light, but it will also create virtual space and make any room look bigger!
Experiment with Fabrics

Finding different fabrics and patterns to decorate is a wonderful way to spruce up a room! From updating upholstery to pillows, blankets, and tablecloths, you can add new fabric into your interior design to change things up and make your room feel brand new.
If All Else Fails, Paint

Painting a room a new color is the most common suggestion you'll receive when you want to spruce up a room in your home. If you tried other ways to spruce up your room and you still aren't happy, then check out new paint colors and match it to your current furniture. Don't feel like you have to stick to one color either! Get creative and experiment with more than one color by adding an accent wall or trim.
Are you thinking of buying a home in Philadelphia? Dockside has it all – you'll feel far away from the hustle and bustle of city life but you close enough to enjoy it. We'd love to hear from you and welcome you into our community at The Residences at Dockside. for more information.
Own the View. Own the Skyline. Own at Dockside.