Public Art Within Walking Distance of Dockside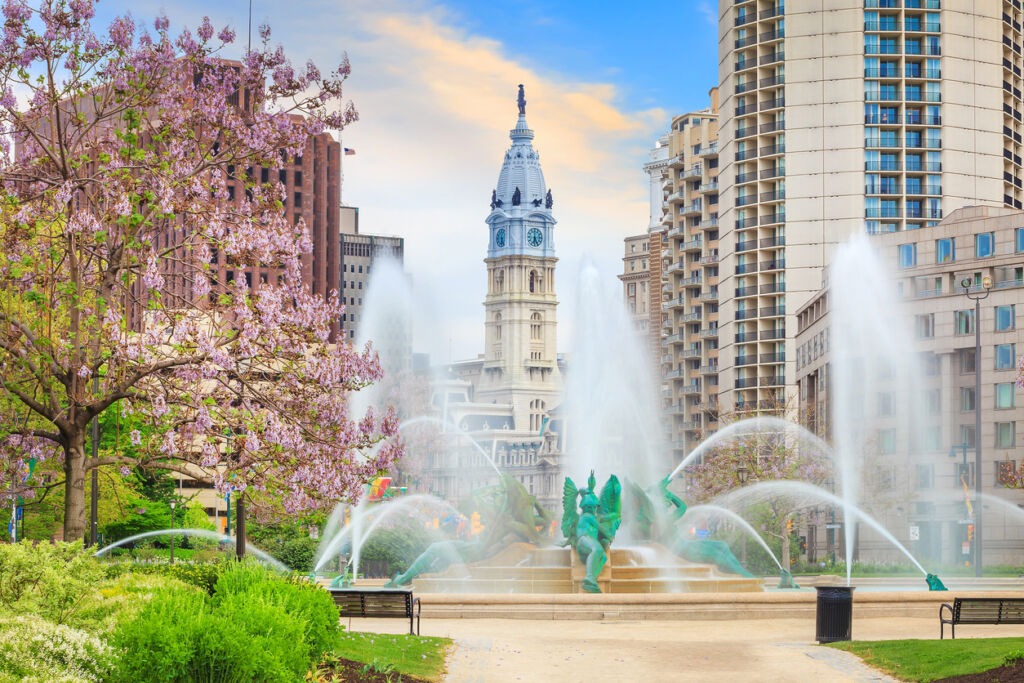 Now is a great time to plan a walking tour of some amazing public artworks in our city! Check out the list below: 
Land Bouy
– by Jody Pinto, 2014 
A spiral-shaped staircase that honors immigrants who arrived in Philadelphia at this site, known as "Philadelphia's Ellis Island", a "mast-like" spire element ascends into the sky with a 16-foot spiral staircase wrapping around its base. Visitors can climb the stairs to a platform that offers views up and down the Delaware River, from the Benjamin Franklin Bridge to the Walt Whitman Bridge. "This is a platform for viewing, for dreaming, and for remembering," said Pinto.
Hand-in-hand in a grouping of three, William Dickey's thirty-foot-tall stick figures appear to stride across Philadelphia's South Street Pedestrian Bridge. Affectionately known as the "Stick Men," the aluminum and steel sculpture allows for pedestrians to easily pass through it to the other side of the bridge, which connects South Street over I-95 to Penn's Landing. The towering figures were installed shortly after the completion of the bridge in 1995.
For this piece, the artist created a complete visual environment of sculpture, trees, flowers, ornamental paving, and lighting. The idea, she explained, was to relate the space both to the architecture of the city (specifically the Society Hill area) and to the park atmosphere of neighboring Washington Square. The sculpture would include "majestically scaled" forms as well as forms of a more human size.
Ghost Structures
– V
enturi, Rauch and Scott Brown, 1976
The artwork is installed where Benjamin Franklin's home and print shop once stood. The original structure (razed in 1812) was the only personal residence Benjamin Franklin ever owned. After extensive research and archeological excavations, the National Park Service engaged a Philadelphia architectural firm to convert the property into a memorial to Franklin. Architectural firm Venturi, Scott Brown and Associates (formerly Venturi and Rauch) erected "ghost structures" to suggest the outlines of Franklin's house and print shop. 
Four 19-ton glass and steel torches tower more than 40 feet on each corner of Broad Street and Washington Avenue. The holographic film on the sculpture's glass panels reflect light from the sun during the day, and the artwork is illuminated at night. Designed by Philadelphia-based artist Ray King, Philadelphia Beacons stand as a gateway in South Philadelphia to the Avenue of the Arts. King is known for his work with light and sculpture.
Our waterfront condos in Philadelphia are situated in a stunning riverfront neighborhood that is just waiting to be explored. Dockside is located just down from Delaware Ave. off of Columbus Blvd. and offers luxury modern amenities including a newly renovated clubroom, indoor parking with security access, a 24-hour lobby attendant, indoor pool and hot tub, and a health and fitness facility. After a long day of exploring the city, you'll love coming home to your luxury condo with spectacular Philadelphia riverfront views. Contact us today for availability or to schedule an appointment!