The countdown is on for NFL Sunday at Dockside!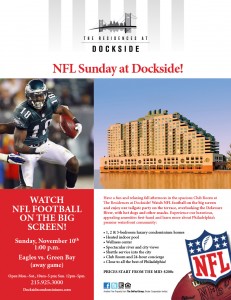 We hope you're planning to join us for NFL SUNDAY at Dockside – this Sunday, November 10th! We'll be in our spacious, comfortable Club Room at 1:00 p.m., ready to to watch the Eagles take on the Packers. Please join us, whether you're a resident, a neighbor, a friend, an interested buyer or renter… all are welcome! We'll also have a tailgate party out on the terrace, with hot dogs and other great football snacks – so come ready to eat.
Looking forward to kick-off… and to seeing you there!