Are you ready for some football?
The party never stops at Dockside…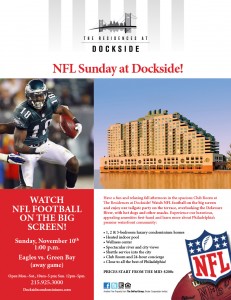 We had a great time last weekend at our Fall Celebration – and we'll share some pictures with you shortly. Now, we're gearing up for our next big event: NFL SUNDAY at Dockside! Make plans to join us in our spacious, comfortable Club Room at Dockside on Sunday, November 10th, at 1:00 p.m., to watch the Eagles take on Green Bay… and to enjoy our tailgate party on the terrace, with great football snacks!
Wear your green (if you're an Eagles fan… and if you're a Green Bay fan, well, the color works for you, too…). We'll see you there!