Just across the river from Dockside, an African Penguin is waiting to meet you

If you haven't been to the Adventure Aquarium – or if you haven't been in a while – this weekend might be a great time to visit. It's easy to get to, just across the river from Dockside on the Camden NJ waterfront. It's open every day of the year from 10:00 a.m. – 5:00 p.m…. and there are always new adventures to explore and opportunities to discover!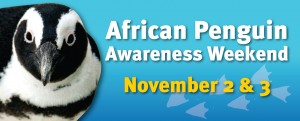 This weekend it's African Penguin Awareness Weekend at the Aquarium – an annual event featuring an array of "penguin-centric" activities, all of which help promote the conservation of African Black-Footed Penguins. Special activities will include:
A chance to meet an African Penguin during special, up-close appearances
Live Q&A chats with biologists to get the 411 on these adorable sea birds
Penguin painting demonstrations by the mini-artists themselves
Much more!
100% of the proceeds from the sales of Penguin Paintings, footprints and bracelets will go directly to support the Southern African Foundation for the Conservation of Coastal Birds (SANCCOB), a non-profit sea bird rehabilitation center based in Cape Town, South Africa that aims to conserve and protect South Africa's threatened sea birds. Classified as 'endangered', there are now fewer than 26,000 African Penguin breeding pairs of the penguins remaining, a number that has drastically dropped by more than 90% in the last 100 years. For each purchase during Adventure Aquarium's Penguin Awareness Weekend that benefits SANCCOB, Adventure Aquarium guests will receive an "I helped save a penguin today" sticker (while supplies last).
Why not head over to the Camden Waterfront this weekend to show your support for these amazing creatures?
After all – how often do you get to see a live penguin in Philadelphia?