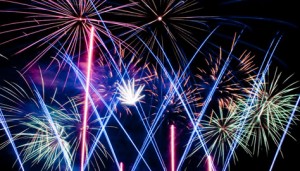 One of our favorite attractions in Philadelphia is Longwood Gardens – and this Saturday would be a great time to visit. Longwood features 1, 077 beautiful acres of land with 20 indoor and 20 outdoor gardens. The Conservatory alone displays over 5,500 types of different plants! This expansive 4.5-acre indoor garden is one of the world's largest greenhouses and takes about an hour and a half to walk through.
In addition to the Conservatory there are stunning outdoor gardens and the incredible Peirve-du Pont House. One of our favorite things to see are The Fountains, a series of three gorgeous and expansive water or fountain gardens. These fountains display incredible shows throughout the day that will take your breath away. For their schedule go to: http://www.longwoodgardens.org/FountainSchedule.html.
Finish your day off with the an evening of music at Longwood from revered Russian composer Dmitri Shostakovich. The show starts at 9:15 and will feature his Festival Overture and Jazz Suite No. 2. It will finish with an incredible fireworks display. After a long day of walking these beautiful gardens,what could be better than laying out on a blanket with some snacks and listening to some world-class music? Spend your Saturday enjoying the outdoors and relaxing under the stars. For more information on this event go to: http://www.longwoodgardens.org/FireworksandFountains.html.
Of course, if the weather doesn't cooperate, you can always relax at home at Dockside, in our pool, exercise room… or the comfort of your own luxurious home!