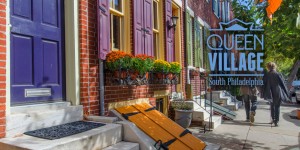 Head a few blocks south of The Residences at Dockside and you'll find yourself in the vibrant and colorful Queen Village. Amid the historic houses, shaded sidewalks, cobblestone streets, and colorful shutters you'll discover an array of unique and quirky boutique shops. Stop for lunch at the Headhouse on Second and Lombard Streets for the weekly Headhouse Farmer's Market. Here, every Sunday, you'll find the largest and most popular farmer's market in the city. Browse through stalls filled with fresh produce, meats, dairy products, wines, and baked goods. Wander out to the street to find a large array of food trucks of all kinds.
The area features gorgeous colonial style town homes with incredible windows and woodwork. Walking these streets is like taking a step back in time and experiencing historic Philadelphia. Take a stroll down Fabric Row for some great shopping and stop into Ela on 3rd and Bainbridge Streets for one of the best meals Philadelphia can offer. Finally, dance the night away at one of Philadelphia's best-kept secrets, the L'Etage Cabaret club on 6th Street. For more information on what to do in Queen Village visit http://www.visitphilly.com/itineraries/philadelphia/explore-queen-village/.
The Residences at Dockside are ideally located for our homeowners and residents to experience the best of Philadelphia, so take advantage of our fantastic location and explore some of our great neighborhoods!