Best Happy Hours in Philly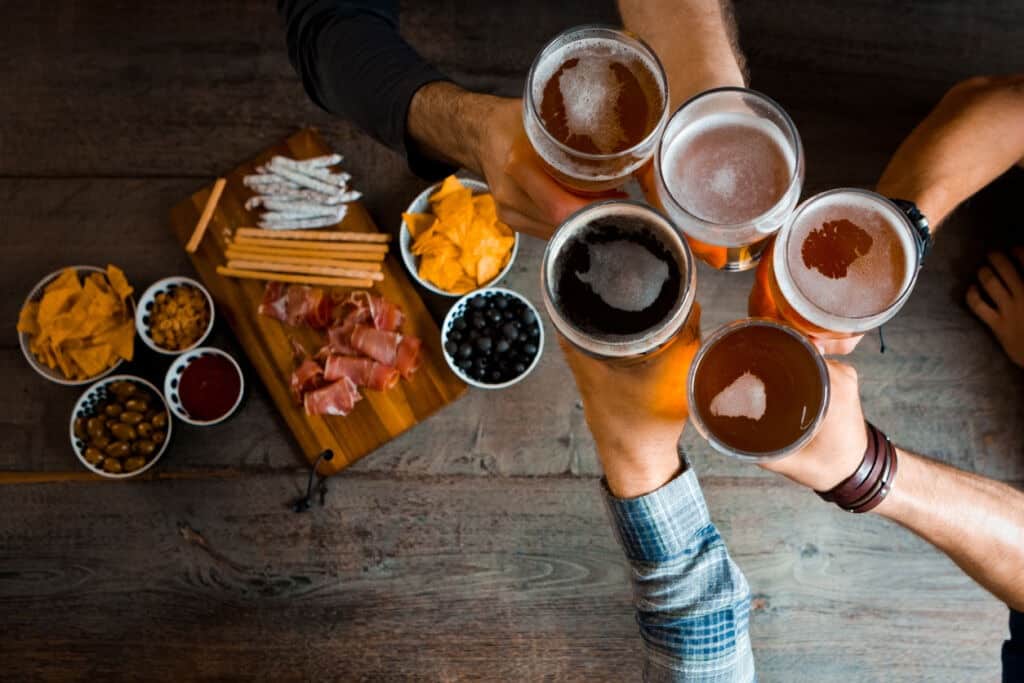 Tattooed Mom
Tattooed Mom is a popular dive bar in South Philly and its happy hour is hard to match! From Sunday to Thursday they have beer and discounted delicious food as well. From Burger Wednesday with 4 dollar Mom's Classic burgers and 2.50 Narragansett 16 Ouncers, to 50 Cent pierogis on Thursday, you're bound to find a night at Tattooed Mom that fits you. Not only do they have different food specials, they also have half price on all drafts from 5-7pm, and better yet, it kicks up again with the same deal from 10-11pm. See the full menu here.
Sampan
Every day of the week from 4-7 Sampan features discounted drinks and delicious meals. This is a wonderful choice for a nice night out without breaking the bank while still getting some amazing snacks from Kobe Sliders, Pork Bao Buns, to chicken wings, and crispy fried brussel sprouts, all ranging from 4-5 dollars. Their drink menu does not disappoint either! The house red and white wines are discounted to $5 a glass, along with a specialty cocktail and a featured beer for the same price. See the full menu by clicking here.
Jerry's Bar is a great option for a friendly and relaxed night out with a great mix of cheap drinks and good food. With a nice variety of food, this Northern Liberties spot is a nice departure from the regular bar food, offering a hummus trio, squash and zucchini fries, and mussels. They also offer great daily deals like Taco Tuesday, where tacos are $2 and margaritas are $5. Click here to see their full Happy Hour menu with drink and food specials.
El Rey
El Rey is a lovely Mexican restaurant in center city with delicious food and drinks all day long, and an awesome happy hour from 5-6:30 pm on Monday-Friday. Quesadillas, churros, tacos, enchiladas, chips and salsa and more can be found at El Rey, which achieves their goal of 'capturing the essence of Mexican home cooking.' Their happy hour lives up to the rest of their reputation with $1 tacos with steak, chicken, fish, cheese and vegetable options. $2 cans of Tecate, $3 Coronas, Yuenglings, and $4 margaritas are sure to leave you feeling satisfied. Look through their happy hour and other menus here.
The Citywide
The Citywide Special is a staple when it comes to a night out on a budget in Philadelphia. You get a PBR 16 oz can and a shot of whiskey for only $3. There's no exact origin for the deal, but it's accepted that Bob & Barbara's bar on South Street were either the founders or one of the first pioneers! It became so popular in a few bars in South Philly that bars and restaurants all over the city have started offering the Citywide Special as well, with some minor changes, like the version at Dos Segundos where they sub out the PBR for a Tecate and the whiskey for Sauza tequila. If you live in Philadelphia and haven't had a Citywide before, make sure to head to your neighborhood dive bar to find yourself one!
Enjoy everything Philadelphia has to offer and live the Dockside Lifestyle! Make your move today! Feel free to contact us for more information. We'd love to hear from you and welcome you into our community at The Residences at Dockside.
Own the View. Own the Skyline. Own at Dockside.