Wait… was that Dockside I just saw on NBC News?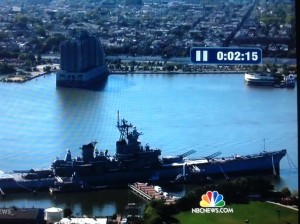 Recognize that building in the background of this picture? That's Dockside, of course! We were excited to see our building so prominently featured a number of times recently during the NBC Nightly News with Brian Williams. On September 26th, the newscast broadcast live from aboard the Battleship New Jersey in Camden, NJ – which is right across the river from The Residences at Dockside. Some might say we photo-bombed Brian Williams' newscast. We say, when you're one of the most prominent buildings on the Philadelphia side of the Delaware River, you're bound to get noticed!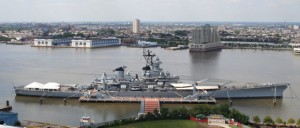 And speaking of the Battleship New Jersey, if you haven't been, or you haven't visited in a while, why not check it out this weekend? It's America's most decorated battleship – and one of the area's most exciting museums, open for tours, events and overnight encampments. You'll see exhibits of artifacts from the ship's past, and you'll be part of the exhibit as you go through the interactive tour route. Sit in the chair from which Admiral Halsey commanded the fleet. Stretch out on the bunks where the sailors slept. Climb into the 16" gun turret and learn how the projectiles were loaded. Each step in your journey brings you closer to understanding what life was like for a sailor on the Battleship New Jersey.
For hours, directions, tickets or more information on our neighbor across the river, visit www.battleshipnewjersey.org.
And to see the NBC newscast with Dockside in the background, go to:
http://www.nbcnews.com/watch/nightly-news-netcast/nightly-news-with-brian-williams-full-broadcast-september-26-334098499976