Spruce Street Harbor Park… Our Great New Neighbor!

Have you visited the Spruce Street Harbor Park at Penn's Landing Marina yet? This two-month summer program, which opened June 21st and runs through the end of August, includes a boardwalk, an urban beach, fountains, and misting areas right on the Delaware River waterfront, only steps away from Dockside.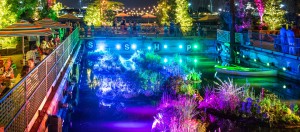 The centerpiece of the park is a series of floating barges complete with lily pad water gardens, a pop-up restaurant and bar, and nets that will suspend visitors over the water. The full design of the project including the landscaping and programming evokes the maritime history of the area, and celebrates the River's industrial past and the bright future ahead for Philadelphia's waterfront.
And check out the Art Star Pop Up Market – a small, open-air market featuring the work of 20 of the finest makers from Philadelphia and the surrounding region. The Pop Up Market is held every Saturday from 11am-3pm (weather permitting) until August 30th, along a tree-lined walkway within the Spruce Street Harbor Park. You'll find a variety of handmade goods, all priced affordably with most items priced under $50.
Go enjoy a day or evening with your family or friends, at the new Spruce Street Park!