Enjoy Stress-Free Parking Zen at Dockside
'tis the season… for crazy drivers and frustrating attempts to find parking spots!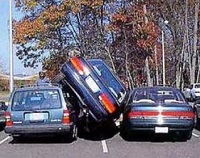 Sure, it can be tough to find parking in and around the city any time of the year. But the holiday season makes it even more challenging. At Dockside, we think when you get home, the last thing you want to do is spend time looking for a place to park – especially when your luxurious Dockside condominium home and all our great lifestyle amenities are waiting for you!
That's why we've made easy parking a priority at Dockside. Living here, you'll enjoy three full levels of indoor parking (so you don't have to battle the elements), with security-gated access (so you don't have to worry about safety). Every Dockside resident gets one reserved parking space – with more spaces available to purchase, if you need it – so you'll never have to worry about finding a place to park.
Life is stressful enough – especially during the holiday season. When you come home to Dockside, we do our part to make it as stress-free as possible for you… starting with easy parking. It's just one more reason our homeowners love living at Dockside.