With Views Like These, Remind Your Guests to "BYOC"…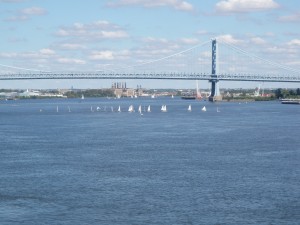 "Bring your own camera," that is.
Living at The Residences at Dockside, you really are treated to some of Philly's most spectacular views. In one direction, you have a stellar view of the city skyline. Look in another direction and you might see something like this on a warm, sunny day – a fleet of sailboats resting on the river, just below the Ben Franklin Bridge.
It's no wonder one of our homeowners told us, "Everybody wants to come and visit – and they take a million pictures!" Of course, your guests have to go home again. When you live here, you get to wake up the next day to another great view like this one.