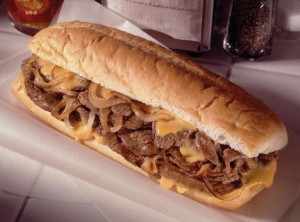 The world-renowned Philadelphia cheesesteak has long been a contentious topic for city residents. What makes up an authentic cheesesteak? And who makes the best one?
The traditional sandwich is comprised of a long roll filled with thinly sliced tender ribeye beef and cheese. Choice toppings include: fried onions, mushrooms, ketchup and peppers. In 1930 Pat Olivieri, a local hotdog vendor, created the first cheesesteak and the city of Philadelphia couldn't get enough of it. Since that day, his restaurant, Pat's King of Steaks, has been producing these delicious sandwiches 24/7. But just across the street, a rival restaurant, Geno's Steaks, claims that they first added the cheese to this famous meal in 1966. The two restaurants have developed a rivalry over the past 40 years as they compete to provide the best Philly cheesesteak.
To determine for yourself who makes the best Philly cheesesteak, head down to South 9th Street and East Passyunk Avenue where both restaurants are open around the clock. Other notable cheesesteak providers are Jim's Steaks on South Street, Abner's Cheesesteaks on Chestnut Street, and Ishabibbles also on South Street. Spend some time enjoying this Philadelphia staple,  judge for yourself who really makes the best in Philly – and let us know what you think!