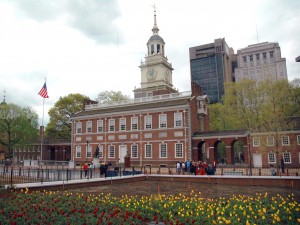 Independence Day is just around the corner – so why not take this weekend to visit Independence Hall in historic downtown Philadelphia? It's a great way to reacquaint yourself with our local history before – and in honor of – the upcoming holiday. The Hall is open from 9:00 a.m. to 5:00 p.m. Free time-specific tickets are available on site as early as 8:30. But get there before noon because tickets will go quickly!
The tour starts in the Assembly Room where George Washington was appointed the Commander in Chief of the Continental Army in 1775, the Declaration of Independence was adopted in 1776, the design for the American flag was agreed upon in 1777, the Articles of Confederation were adopted in 1781, and the US Constitution was created in 1787. When you're finished your tour, head down the street to the Liberty Bell Center, which is also open from 9:00 a.m. to 5:00 p.m. Tickets are not required to see this significant relic of American history.
For more information on Independence Hall, the Liberty Bell Center, and the rest of Independence National Park visit http://www.nps.gov/inde/index.htm. Celebrate Philadelphia and its unique role in American history this weekend!