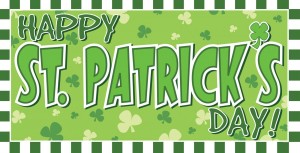 Wishing all our Dockside residents and friends a happy St. Pat's Day! There are some fun events happening around Philly this weekend to mark the occasion, if you're in the mood to celebrate. Here are just a few:
THE SHAMROCK CELEBRATION (Philly's largest St. Pat's celebration) Saturday & Sunday 3/16-17 12:00 Noon, The Piazza at Schmidts, 2nd and Germantown Road. 3000+ people and 50+ craft beers! Includes cover charge, first drink FREE, live bands all day, and MORE! Tickets from just $15 in advance only. 856-438-6405 / http://www.upcomingevents.com/philadelphia/st-patricks-day-philly-the-piazza/pfg/
SINGLES' ST. PATRICK'S DANCE PARTY Saturday 3/16, 8 pm – presented by Professional and Business Singles Network, at BROOKSIDE MANOR in Trevose. $15 admission at the door. 40s, 50s, and 60+ age group. Mix, Mingle and Dance the night away with new friends. Dressy attire, jacket and tie please, no jeans or sneakers. Cash bar. For more info: 610-805-5827 / http://www.PBSNinfo.com/
ST. PATRICK'S DAY TOUR, TOASTS & TASTES Sunday 3/17, 1 pm at Laurel Hill Cemetery, 3822 Ridge Ave. A festive St. Patrick's Day tour and reception at Philadelphia's most similarly festive cemetery. An early springtime walking tour, held in the "spirit" of St. Patrick's Day, to remember the heritage, struggles and accomplishments of our Irish and Irish American residents. Enjoy beer, food and music. Sample all at the after-tour reception in Laurel Hill's historic Gatehouse. Tickets & info: 215-228-8200 / http://www.thelaurelhillcemetery.org/index.php?flash=1
Whatever you do or wherever you go, enjoy – and please be safe!