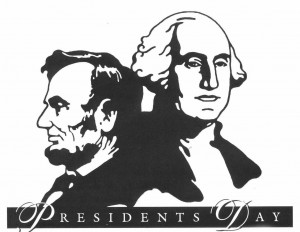 We'd like to wish you a happy Presidents' Weekend – and a good long weekend, if you have the day off Monday!
There's lots to do around the city in honor of Presidents' Day. Why not take advantage of one of these fun celebrations? For more details on any of these presidential events, visit http://www.visitphilly.com/events-calendar/
The President's Plate: The Lincoln Years
Presented by Fort Mifflin on the Delaware
Saturday, February 16, 2013

Come to Fort Mifflin and watch a cook prepare some of Lincoln's favorite dishes over the open hearth. See an authentic table setting of period china and learn table manners of the 1860's! Visit with Civil War "soldiers," enjoy guided tours, uniform and weapons demonstrations, and more!
The Many Faces of George Washington
Presented by Independence National Historical Park at Second Bank of the United States
Sat-Sun, February 16-February 17, 2013
Celebrate Presidents Day weekend and George Washington's Birthday with this special tour of the many portraits of Washington. The Portrait Gallery also features a portrait of Martha Washington and his many friends and comrades. Join a Park Ranger to see the generals, diplomats and congressmen he knew.
Washington's Birthday Celebration
Presented by Friends of Washington Crossing Park at Washington Crossing Historic Park
Sunday, February 17, 2013
Come celebrate George Washington's birthday with the General himself! General Washington will be on hand to greet visitors and accept your well-wishes, while demonstrations ranging from Blacksmithing to Open Hearth Cooking take place around the site. Children will delight in games, crafts, storytelling, and colonial musket drills. Collecting puzzle pieces from touring the demonstration sites can lead to a birthday prize. Finally, General Washington will cut his cake at 1:30pm to share with his guests.
Presidents Day Weekend Celebration
Presented by National Constitution Center at National Constitution Center
Sat-Mon, February 16-February 18, 2013
During Presidents Day weekend, visitors to the Center will learn about the role of the president and what it takes to be commander in chief. At craft activity tables, children can create campaign buttons, design their own presidential seals, and more. Guests also are invited to join in a special "Presidential Tour" of the Center's main exhibition, The Story of We the People. During the "Hail to the Chief" quiz games, participants will race against the clock to answer questions about presidential elections, inaugurations, and even pets! Re-enactors will join the Center throughout the weekend to mingle with guests, pose for photos, sign autographs, and discuss their lives and presidencies.
Washington's Birthday Bash
Presented by Valley Forge National Historical Park at Valley Forge National Historical Park
Monday, February 18, 2013
Join The General and Martha Washington for the 235th Anniversary of George's birthday celebration at Valley Forge! Sing Happy Birthday to George Washington and join him for a piece of his birthday cake at the Visitor Center. Children's activities include making a birthday card for General Washington or a tricorn hat, playing with 18th century toys, and learning to weave to make a creation of your own!