There's lots to do on the River this weekend, just outside your door at Dockside!
Tonight (July 6) from 7-9 p.m.: FIRST FRIDAY- PARK AFTER DARK ON THE RACE STREET PIER (Columbus Boulevard at Race Street on the Delaware)
A musical melting pot where Race Street meets the Delaware River. Hosted in conjunction with the Delaware River Waterfront Corporation and sponsored by the Pennsylvania Horticultural Society, and the Friends of Race Street Pier. Explore the galleries in Old City and then take a stroll down Race Street to the new park on the pier and celebrate First Friday and the WHYY Connections Festival. Elements include
· Local Food Vendors
· Race Street Peers Information Table
· Music by DJ Hollywood
· Live Music by Trinidelphia and Race Streets. The band features Bomba and Plena music connecting African and Puerto Rican music and cultures.
· Live Music from the West Philadelphia Orchestra on Race Street Pier featuring Jazz, Middle Eastern, Balkan, Brazilian, punk, blues, funk, etc.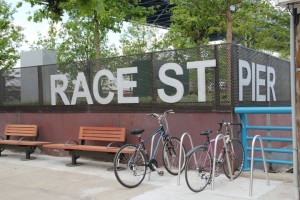 Saturday July 7: To continue the festivities long past July 4th, the Delaware River Waterfront Corporation is proud to welcome the United States Army Vessel, El Caney to dock at Penn's Landing from July 6-8, 2012. The Ship's visit is just in time for the Star Spangled Evening with the United States Army Band, Pershing's Own who will perform on the RiverStage on the Great Plaza at Penn's Landing.
9:00 a.m.-6:00 p.m.- FREE PUBLIC TOURS
7:30 p.m. – FREE CONCERT
9:30 p.m. – FIREWORKS SALUTE (Over the Delaware River, accompanied by U.S. Army Band playing live musical soundtrack)
WHERE: The Great Plaza at Penn's Landing
Columbus Boulevard at Market Street
For more information and event details, please call (215) 922-2FUN or visit www.delawareriverevents.com