Only in Philadelphia… get up close and personal with the world's largest pipe organ!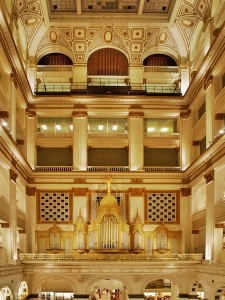 Philadelphia is a city full of unique, historic, one-of-a-kind events, places to visit and things to do. Here's one that's happening this weekend that you might want to check out… and of course, not far from home at The Residences at Dockside.
Did you know that Philadelphia is home to the world's largest pipe organ? It's the Wanamaker Organ at Macy's Philadelphia. And this weekend, on Saturday January 25th at 12:00 Noon, The Friends of the Wanamaker Organ will offer a comprehensive guided tour of this majestic instrument. (If you can't make it this weekend, no worries… tours are offered on the last Saturday of every month.) Tours last about two hours and include an organ concert at 12:00 Noon. Reservations and payment are required in advance. Click here to order your tickets and please print your receipt as your ticket.
Take advantage of the opportunity to get up close and personal with this famous landmark, a true Philadelphia original – the Wanamaker Organ!
Have a fun, safe and WARM weekend, wherever your travels take you!