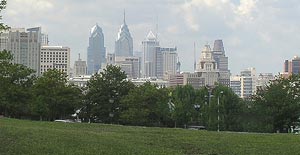 Now that the heat wave is finally over, take advantage of this beautiful weather and get outside! Bring your bike just south of our residences to the beautiful and developing Washington Avenue Green or across the river to the Dr. Ulysses Wiggins Waterfront Park for a leisurely ride along the Delaware River.
The Washington Avenue Green is a recently redesigned pier that the city has remade into a park with beautiful biking and running paths directly along the water. This growing yet still hidden gem is located just a few minutes south of Dockside on South Columbus Boulevard.
Across the Ben Franklin Bridge in Camden, the Dr. Ulysses Wiggins Waterfront Park offers miles of national parkland for sporting, walking, running, biking, or relaxing on the river's bank. Spend your day enjoying the sun, fresh air, and sweeping views of the city and, when you return, remember that we provide convenient bike storage here at Dockside!