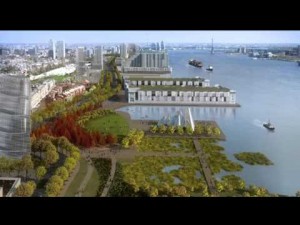 This Monday, June 17th, you can celebrate the opening of the first segment of the Delaware River Trail at a ribbon-cutting ceremony at 10:30 a.m. Mayor Michael Nutter and other local leaders will be there to commemorate the event, at Delaware Avenue and Penn Street. (Parking can be found at Festival Pier, Spring Garden Street and Delaware Avenue/Columbus Boulevard.)
This event will mark the opening of the first segment of the planned 5-mile trail that will run along the Delaware River – just another fantastic reason to love living on the river! The area will feature spacious paths for biking and walking, will connect the East Coast Greenway and the Circuit, and will provide a larger bicycle network for the city. There will also be gardens designed to collect rainwater and fitted with bike racks and innovated solar lighting.
Join us if you can in celebrating the opening of this great city initiative and supporting the continuation of this project. For more details, visit http://www.delawareriverwaterfront.com/events/delaware-river-trail-opening.