If you haven't taken advantage of the Philadelphia International Festival of the Arts (PIFA) this month, you're missing out on one of Philly's coolest events. But don't worry – you still have time to participate in this month-long celebration of innovation, collaboration and creativity, which wraps up on Saturday, April 27th!
The Kimmel Center for the Performing Arts' inaugural PIFA launched in the spring of 2011, with more than 400,000 people experiencing spectacular events and performances from 150 arts partners over the course of the 30-day festival. Since then, this annual event has put Philly's diverse and extensive artistic contributions on the world's center stage.
This year the theme is "If You Had a Time Machine…" featuring new and innovative works that will transport audiences through time, tracing the ideas of past visionaries, examining current cultural events and fast-forwarding to imagine the possibilities for what's yet to come. More than 50 local arts and cultural organizations will put on dozens of events throughout the month ranging from music and theater to visual arts and family-friendly acts.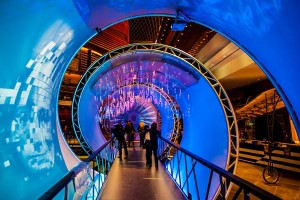 Ongoing events and attractions include the Time Machine, pictured above – a 100-foot interactive art installation that will lead visitors on a free, daily journey through time. The installation is open everyday of the festival, 10 a.m. to 11 p.m. Sunday through Tuesday, and 10 a.m. to midnight Wednesday through Saturday.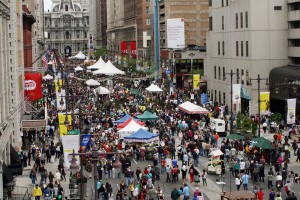 The culminating event of the month-long arts festival, the PIFA Street Fair, pictured above, will once again take over Broad Street from Chestnut to Lombard with a day of street performances, live music, food, special events and more on April 27, 2013.
For more details on this fun event, check out www.pifa.org; or call the Kimmel Center at (215) 546-PIFA.